The driving force behind the remarkable journey of Smokin' Cheeze lies in the shared passion and dedication of its visionary founders:
– Syed Abdullah Mohamad Al Idrus
A culinary enthusiast and a natural leader is the heart and soul of Smokin' Cheeze. With an unwavering commitment to exceptional taste and quality, he serves as the General Manager, providing strategic direction and overseeing the overall operations of the business.
His innate ability to blend creativity and practicality has been instrumental in shaping Smokin' Cheeze's unique identity.
– Elaina Sukaimi
As the Business Development Manager possesses an entrepreneurial spirit that knows no bounds. Armed with a knack for identifying growth opportunities, she has been instrumental in driving business expansion and establishing a strong network of loyal clients.
Her relentless pursuit of new market opportunities has contributed significantly to the rapid growth of Smokin' Cheeze.
– Datu Nasrun Datu Abd Rahman
The cornerstone of efficient operations, Datu Nasrun, the Operation Manager, brings a wealth of experience in planning and organizing. His expertise in managing production processes and ensuring top-notch service delivery has allowed Smokin' Cheeze to consistently exceed customer expectations.
Under his watchful eye, the kiosk operate like a well-oiled machine, ensuring every customer enjoys a seamless dining experience.
– Redzuan Hiew
As the Associate Manager, Redzuan plays a vital role in translating the company's vision into actionable workflow procedures. With a meticulous attention to detail, he ensures that Smokin' Cheeze adheres to the highest standards of quality and service.
His dedication to implementing best practices and continuous improvement has been instrumental in enhancing the overall efficiency of the business.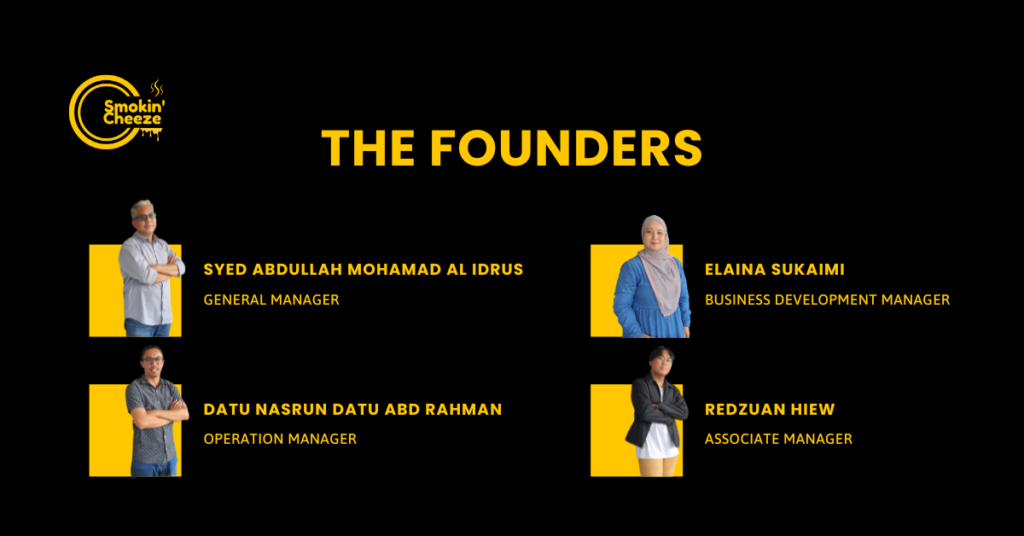 Together, these four founders form an unbreakable bond, united in their pursuit of excellence and innovation. Their collective expertise and unwavering commitment to creating an exceptional dining experience have set Smokin' Cheeze on a trajectory of success.
As they continue their journey, the founders are eager to lead Smokin' Cheeze through its Phase 1 business plan, eager to bring their delectable creations to a wider audience.
With their leadership and the support of a dedicated team, Smokin' Cheeze is poised to become a culinary icon, leaving a lasting impression on the hearts and taste buds of every customer they serve.